Enjoy the sweet and earthy flavors or fall with this simple fresh pumpkin jam. With just few ingredients you'll not only end up with jars of homemade jam but also your home will smell heavenly.
Next time try this watermelon rind preserve, so easy.
Jump to:
❤️ Why You'll Love It
A great way to use fresh pumpkins.
An easy way to enjoy pumpkin flavor all year!
Easy to follow jam recipe that is safe to say beginners level.
Homemade jams are great last minute gifts.
🥄 Instructions
Note: This is an overview of the instructions. The detailed instructions are in the recipe card below.
Grate or dice your pumpkin and place in a saucepan.
Mix in all other ingredients and turn heat on.
Cook on medium-high heat until it starts to boil, reduce heat and simmer for 30-40 minutes or until pumpkin is completely cooked.
🧺 Storage
Homemade pumpkin jam will stay good in the refrigerator for up to 3 months. If you forgot it on the countertop it might be good for just two weeks, so check before consuming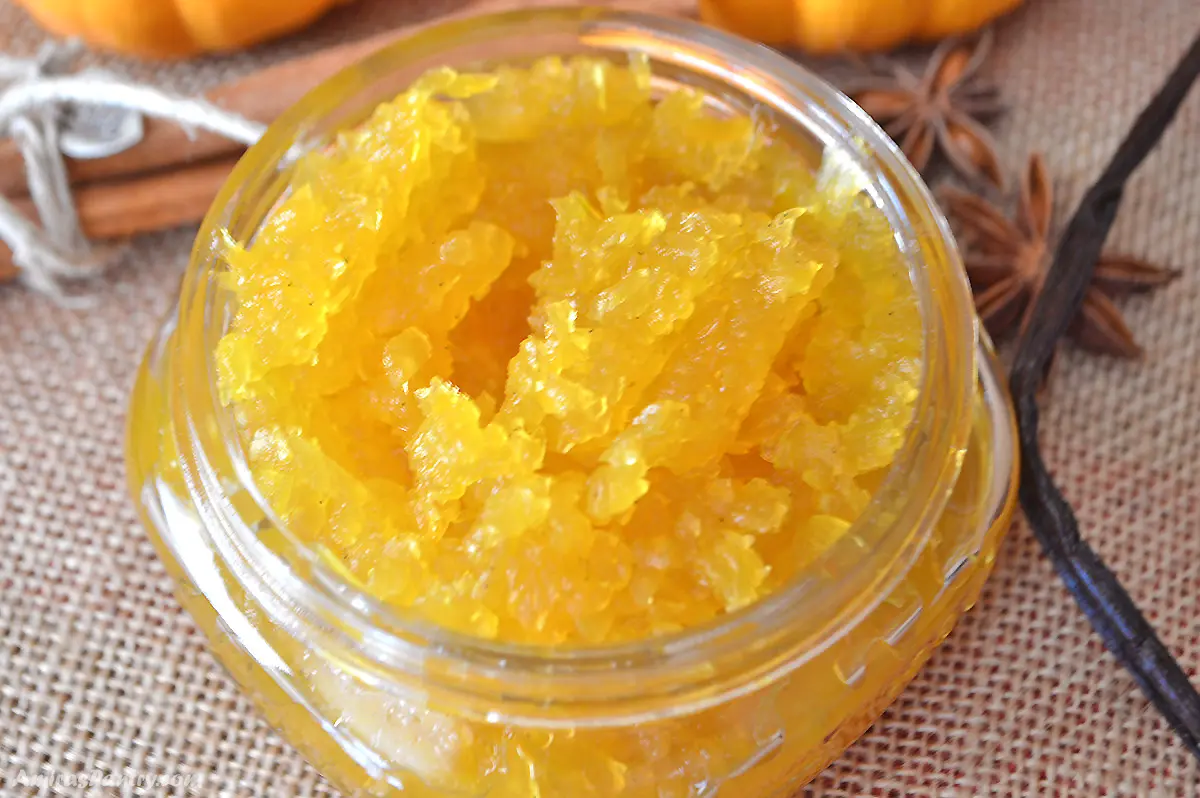 If you like this recipe do not forget to give it a ⭐⭐⭐⭐⭐ star rating and attach a photo of your finished dish. It is always a pleasure of mine to see your photos and check your own take of the recipe. Thank you.
What's new? Check out Amira's Pantry Store on Amazon where you'll find all kinds of nostalgic goodness!  Thanks so much for being a part of Amira's Pantry!
First published Oct 22, 2015 . Last updated September 8, 2022 with important tips, clear step by step instructions and readability.
👩‍🏫 My Experience
Sweet spread that makes you enjoy fall to the fullest, not very popular in Egypt but this is not the case in Tunisia and Algeria.
Everything screams pumpkin these days!!! from stores to the dentist from your neighbors with their scary jack-o'-lanterns to the … you guessed it, the internet. Although I do not like going with the flow- I do not know from where I got this habit-, I've decided to make a few exceptions here and there.
According to my new content manager ( my oldest), he suggested that I should make something with pumpkin this time of the year. Driven by the idea that I do not want to let him down and to make him feel his ideas are worth listening to, I've decided to go with the flow.
Pumpkin is not very popular in the Middle east specially Egypt, the only pumpkin recipe that is really popular there is this pumpkin with bechamel recipe .